Client Satisfaction Survey Results – 2020 
Choosing a business growth specialist that is right for you is a big decision, but you can be assured that we take your satisfaction seriously.  Not only do we guarantee our business coaching – every year we carry out a client satisfaction survey to find out what's working well and what we can improve to make our service even better. This was conducted by independent research agency WorkBuz.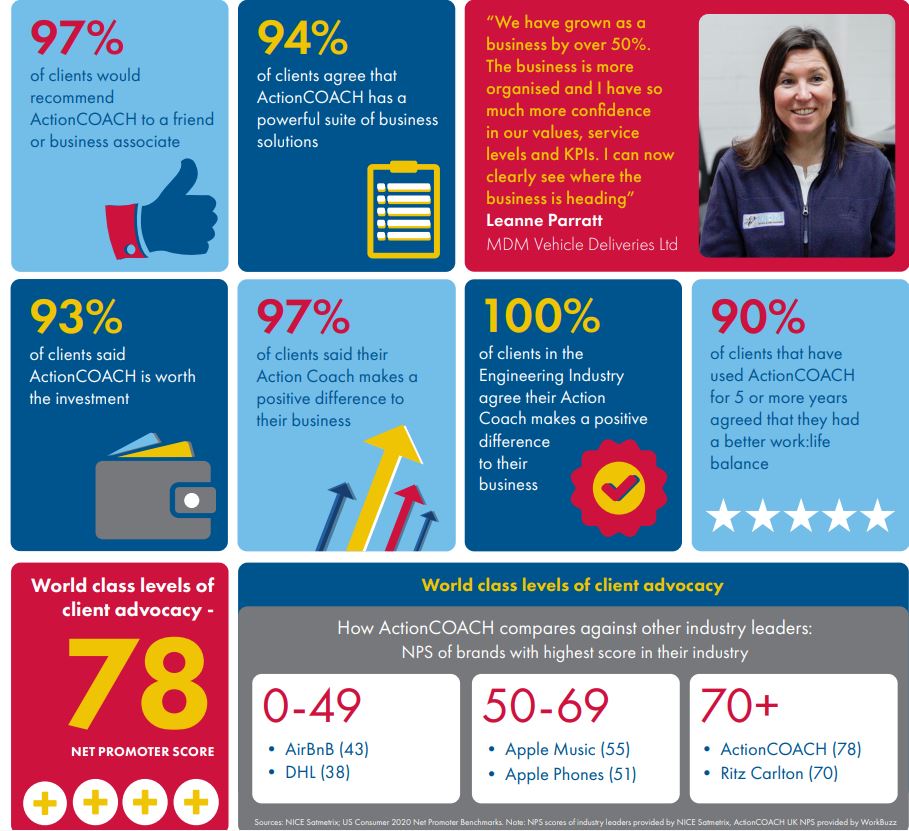 What better endorsement for ActionCOACH than our client's own words. Read some of their comments below:
The last Client Satisfaction Survey was completed in September 2020 by ActionCoach clients across the country (results above).  We are delighted with the results produced from the responses of the clients we work with, demonstrating results above the ActionCOACH UK average. ActionCoach is already one of the top performing businesses in the UK with a Net Promoter Score of 78%,(higher even than the Ritz Carlton!) and we are really thrilled to be even further ahead with a NPS of 82%.
100% of John's clients said they were likely to recommend ActionCoach
What do you like best about ActionCOACH?
"John is great and gives good honest advice.  He encourages you to come up with solutions to business concerns yourself, as well as giving help and support. I think more about forward planning.  It's not quite where it needs to be, but I have the tools to be able to implement a good planning process to aid my business survival."      Isabelle Wallis – Hats and Tiaras  
"I like how John encourages self-motivation and accountability as well as giving practical skills that can be put straight into use." Hazel Wheatley – Hirst Priory
"Its credibility. Every question I can think of is easily answered based on real world experience. John's enthusiasm and positivity is infectious!"     Anne and Jonathan Cozens – IT Services
"John is inspirational!  When life throws you lemons, he helps you make lemonade. He's has great business knowledge and insights."     Paul Grant – UAFN
94% said since working with John, their revenue had increased and 25% said it had increased by more than 100%!
How has your business changed?
"ActionCoach has totally transformed our business.  Since working with John we have seen our turnover increase by 50% and with John's advice,  we have been able to capitalise on our strengths and put ourselves ahead of the competition."    Pete Hewes – Know Media
"I have significantly improved focus, structure, balance and profitability, as well as personal growth, direction and confidence."  Hazel Wheatley – Hirst Priory
"It's early days yet but the engagement has definitely energised the management team. All of a sudden we are enjoying the challenges in front of us." Ann and Jonathan Cozens – IT Services
"We have quadrupled income and increased reputation."    Simon Jeffrey – Techi Monkey
"We now work 'on' our business and not 'In' which means we have more free time."    Peter Sutton – Pretty Woman
87% said since working with John their profit had increased and 26% had at least DOUBLED it!
"I like the approachable demeanour of John; his ability to challenge whilst not demotivating; and the help he gives us to achieve our goals."     Rosie Knight – JCS Fish
"Things I like: One to one business meetings; system analysis; advice on systems and analysis; help over coming real issues and all the ways in which to deal with them."     Chris Taylor – Mr Therm
"I like the structured yet supportive approach. There is a very clear picture of what lies ahead which is very motivating."     Nicky Thomas – The Growth Community
"There is great support, structure and a feeling of being part of a big community of business owners. Understanding how the 5 ways numbers affect the business has enabled me to take home a properwage which has had a significant impact on my personal life. I can now enjoy spending time and holidays with my daughter."  Nic Till – Riverhead Coffee    Nic Till – Riverhead Coffee
"John helps you focus on what is important and organise others to do everything else. Being productive over busy has been a great lifestyle shift."     Ben Smith – Genius Technology Solutions
94% of clients agree ActionCoach has a powerful suite of business solutions.
"I look at my business in a different way. Our industry is extremely competitive with businesses under cutting all the time. I have the confidence to move forward and keep costs to a reasonable level while not lowering prices."     Chris Taylor – Mr Therm
"I'm already focusing more, setting goals AND achieving them!"     Nicky Thomas -The Growth Community
"I've gone from being someone who owns a coffee shop to being an award winning business owner that understands what I need to do increase profit margins and am well on my way to systemising my business so that it can work without me being there."     Nic Till – Riverhead Coffee
"I now have more time with family."    Grace Tillett-Austwick – Tilletts
"I was a workaholic- but I'm slowly trying to spend more time revisiting past hobbies.  I'm becoming director and not a worker."    Paul Grant – UAFN
"We are now more free to enjoy hobbies etc and the additional income has given us more choices."     Pete Hewes – Know Media
96% of clients said ActionCoach makes a positive difference to their business.