To get ahead in life and in business, it is crucial to build relationships and effective communication.
People believe (wrongly) that it is important to treat people the way we would like to be treated but this assumes others thing and act in the same way we do. To build effective and successful relationships, it is actually more important to treat people the way THEY want to be treated.
How can we do this?
We support businesses to do this by using the DISC behaviour profiling tool.  DISC is a simple behaviour profiling assessment developed back in 1928 and is the world's most popular behaviour tool supported by decades of research and continuous validation.
If we said we could help you to maximise your results, have more fun and help you to build long-lasting, loyal, useful, interesting relationships where frustration was reduced and your ability to communicate became more effective, you'd surely want to know more.  Well we can.
By completing a short DISC assessment for you and your team, you quickly learn to understand their own styles but also how to  recognise and adapt to the styles of others.  By simply recognising what drives others, you can communicate more effectively and in a way they understand.    This leads to dramatic and profound results.
What does DISC stand for?
The DISC model uses four behavioural reference points. A formal assessment goes much deeper, but an overview of the four styles are:
Why?
In addition to building more effective relationships, companies use DISC with their teams to help them create competitive advantages such as:
Increase Commitment and Cooperation
More Effective Teams
Less Conflict
Increased Credibility
A common language
So What?
Improved communication and better relationships lead to better business:
Improving your hiring process
Increasing your sales
Increasing the productivity of your team
Reducing employee turnover
How DISC Behaviour Assessments Work
The good news about DISC assessments is that there are no right or wrong answers. They're simple to take online and take as little as 10 minutes to complete.
To improve communications and personal relationships in your business, get in touch and learn how DISC can help you.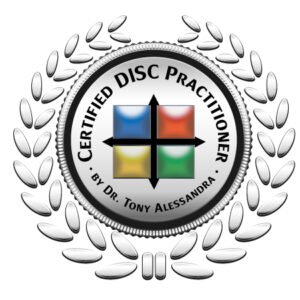 Get In Touch
How Can We Help You?
Send a message
Contact info
John McHale - ActionCOACH ActionCoach Business Coaching
Admin Centre
Sovereign House
Queensway Court
Arkwright Way
Scunthorpe
DN16 1AL