We guarantee to increase your Gross Profit by at least the amount you have invested, and if not, we will give you your money back.
That is, if the amount that you have increased in gross profit after 12 months of coaching is not equal to, or higher, than the investment you have made in business coaching, then we will pay you the differential to ensure that you only experience an upside to working with us.
If you don't benefit, you don't pay. We do!
Our coaching programmes have been tested and proven on a global scale. As long as you make the good-faith effort, do all the required work assigned to you and agreed by you by the agreed dates and attend coaching sessions and events and workshops – you will see your business improve.​
We really are that confident in our approach to coaching and our systems. 
We've seen it work; we know it can be done. All you need to do is get up and do it. You literally have nothing to lose, and everything to gain taking your business from good to great.
With this 12-month guarantee, the worst that could happen is that you end up increasing your profits just enough to pay for your business coaching. Because, even if you don't end up increasing that much, we'll give you the extra bit to make up for it. In other words, the worst that could happen is that you still receive the same amount of profit in your pocket you always have, plus you will have gained advice, coaching and business tools from us and become a better leader and entrepreneur.
And the best that can happen?  This is limited only by what you are driven to achieve – more free time, a business that is easier to run, more effective and efficient as well as a business making significantly more profit – the choice is yours!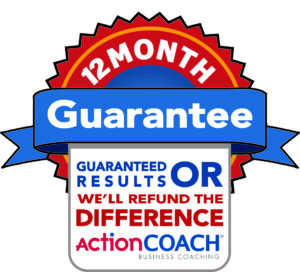 We Guarantee to get results, and that you'll be able to "Find our Fee" in your business within 12 months of ActionCOACHcoaching your company … or we will refund the difference!
We Guarantee to tell the truth about you and your business … no matter how uncomfortable it may be, or how hard it is to share with you the realities of  your business and the changes you need to make…
We Guarantee you a "business re-education" that shows how your business really works and how to successfully grow your company … as well as how to apply your new knowledge to any business situation.
We Guarantee complete confidentiality…
We Guarantee a personalised approach to your business…
We Guarantee a proven system and methodology that is designed to multiply profits in your business, with complete access to our proprietary system of coaching strategies, systems, programs and services…
We Guarantee to show you how ActionCOACH defines business success, and how to build a commercial, profitable enterprise that works without you.