With more than 1,000 offices in 80 countries, ActionCOACH delivers its proven business development systems to tens of thousands of business owners every week. We also help owners who turn to business coaching to get the freedom and lifestyle they sought when they first went into business.
Our Approach
Our simple and systematised approach to business has benefited business owners around the world. With more time, better teams within their companies, and most importantly – more money. Over the past two decades, ActionCOACH has served thousands of businesses and their owners around the world. In every category imaginable.
Below are our 14 points of culture which consists of the values, beliefs, attitudes and behaviours. These provide support for the team, Coaches and our clients, and are used on a daily basis in their work.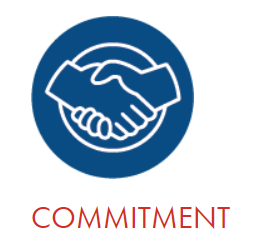 I give myself and everything I commit to 100% until I succeed. I am committed to the Vision, Mission, Culture and success of ActionCOACH, its current and future team, and its clients at all times. I always recommend products and services of ActionCOACH prior to going outside the company.

I am truly responsible for my actions and outcomes and own everything that takes place in my work and my life. I am accountable for my results and I know that for things to change, first I must change.

I always speak the truth. What I promise is what I deliver. I only ever make agreements with myself and others that I am willing and intend to keep. I communicate potential broken agreements at the first opportunity and I clear up all broken agreements immediately.

Good enough isn't. I always deliver products and services of exceptional quality that add value to all involved for the long term. I look for ways to do more with less and stay on a path of constant and never ending improvement and innovation.

I speak positively of my fellow team members, my clients and ActionCOACH in both public and private. I speak with good purpose using empowering and positive conversation. I never use or listen to sarcasm or gossip. I acknowledge what is being said as true for the speaker at that moment and I take responsibility for responses to my communication. I greet and farewell people using their name. I always apologise for any upsets first and then look for a solution. I only ever discuss concerns in private with the person involved.

I totally focus my thoughts, energy and attention on the successful outcome of whatever I am doing. I am willing to win and allow others to win: Win/Win. At all times, I display my inner pride, prosperity, competence and personal confidence. I am a successful person.

I learn from my mistakes. I consistently learn, grow and master so that I can help my fellow team members and clients learn, grow and master too. I am an educator and allow my clients to make their own intelligent decisions about their future remembering that it is their future. I impart practical and useable knowledge rather than just theory.

I am a team player and team leader. I do whatever it takes to stay together and achieve team goals. I focus on co-operation and always come to a resolution, not a compromise. I am flexible in my work and able to change if what I'm doing is not working. I ask for help when I need it and I am compassionate to others who ask me.

I have a balanced approach to life, remembering that my spiritual, social, physical and family aspects are just as important as my financial and intellectual. I complete my work and my most important tasks first, so I can have quality time to myself, with my family and also to renew.

I view my life as a journey to be enjoyed and appreciated and I create an atmosphere of fun and happiness so all around me enjoy it as well.

I always look to the system for a solution. If a challenge arises I use a system correction before I look for a people correction. I use a system solution in my innovation rather than a people solution. I follow the system exactly until a new system is introduced. I suggest system improvements at my first opportunity.

I am consistent in my actions so my clients and team mates can feel comfortable in dealing with me at all times. I am disciplined in my work so my results, growth and success are consistent.

I am a truly grateful person. I say thank you and show appreciation often and in many ways, so that all around me know how much I appreciate everything and everyone I have in my life. I celebrate my wins and the wins of my clients, and team. I consistently catch myself and other people doing things right.

I am an abundant person, I deserve my abundance and I am easily able to both give and receive it. I allow abundance in all areas of my life by respecting my own self worth and that of all others. I am rewarded to the level that I create abundance for others and I accept that abundance only shows up in my life to the level at which I show up.
14 Points of Culture
Watch a video of Brad Sugars, ActionCoach Founder, as he breaks down the 14 points of culture that all coaches lives by.

Working with John has been life changing!
"In 6 months, our turnover had increased by 33%. Working with John has completely transformed our business.

Whilst he has enabled us to analyse and take steps to really drive the business, the impact has not just been on the business. We now have time to step back and evaluate our personal goals too.

Take the plunge – it is the best thing that has happened to us and we'd recommend it to anyone!"

Luke Drewery & Pete Hewes, Owners, Know Media

I can confidently work on my business instead of in it!
"Working with ActionCOACH has turned me from being 'someone who owns a coffee shop' into an 'Award winning business owner'.
John helped me to see that through implementing systems and procedures and getting the right team behind me, I can confidently work on my business instead of in it."

Nic Till, Owner, Riverhead Coffee

We now have a future and financial security!
"Before working with John, my business lacked direction and goals. With John's advice and support, we have smashed our targets and now have aspirational goals in place.
We have a future and financial security now!"

Simon Jeffrey, MD, Techie Monkey Computer Recycling Ltd

Working with John has surpassed all expectations!
"When John first engaged with me, I backed off but quickly learned that he knew what he was talking about and made sense. He holds me to account and sets me weekly challenges which then impacts on the business. He has made me want to develop myself personally and this has impacted both the business and my life. He is a really great guy and working with him has surpassed all expectations."

Thomas Perks, Director, Ground Support Services Ltd

The Importance of planning!
"My first workshop with John inspired me to think bigger, and think about what could be. Talking through my business progress with John made me realise I was doing better than I thought, giving me the confidence to apply for the Hull & Humber Chamber of Commerce New Business Award 2019, of which I was thrilled to be a finalist. I am now taking part in the 90 day planning workshops which have been helping me develop as a business and plan the future growth of Hats & Tiaras."

Isabel Wallis, Business Owner, Hats & Tiaras

The importance of setting goals
"The importance of setting goals
Thank you so much for your support with planning. I thoroughly enjoyed it and found it incredibly useful. Getting a few goals down in that level of detail feels really empowering and a lot more real now! I will definitely be recommending this session to my members."

Nicky Thomas, MD, The Growth Community

John always knows the right questions to ask
"Working with John and ActionCOACH has been a great learning experience, helping to improve our business systems, strategy and management. John always knows the right questions to ask in order to help you get the best out of yourself. He's got a great way of looking at problems and working with you to help you find the right solution. He pushes you to think bigger and further than you might otherwise do alone."

Liam O'Leary, MD, Laser Red

"I've attended both the face to face and on-line 90 day planning sessions and both have their advantages. At the recent on-line session we had a small group and were able to bounce ideas off each other. It made me think about my business and how I can grow it rather than just surviving through this difficult time. It changed my way of thinking and my biggest learning was about the 5 ways numbers and what a difference an increase of just 10% can make to a business."

Pippa Mell, Owner, Diamond Office Support